Josh Chamberlin
Buyer Agent Team Lead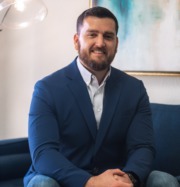 Arkansas Salesperson:
SA00082221
Meet Josh Chamberlin, an experienced vet in the real estate industry. With a passion for helping people find their dream homes, Josh began his career in 2017 after being honorably discharged from the United States Marine Corps the previous year.
Josh's dedication to his clients and his strong work ethic quickly caught the attention of industry leaders, and in 2020 he joined Dustin White Realty as one of the company's earliest team members. There, he honed his skills as a buyers agent, building a reputation for his deep knowledge of the local market and his ability to guide clients through the buying process with ease.
In 2021, Josh was promoted to Buyers Agent Team Leader, a role that allows him to share his expertise and mentor other agents within the company. Whether he's working with first-time homebuyers or seasoned investors, Josh is committed to providing his clients with the highest level of service and support. With his energy, enthusiasm, and expertise, Josh is a valuable asset to anyone looking to buy or sell real estate.